Welcome to Trenton, Nova Scotia!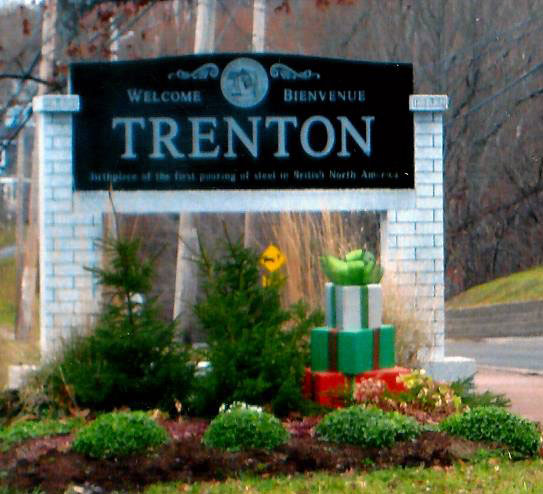 About Trenton
First settled by Scottish immigrants as early as 1773, Trenton was first known as Smelt Brook to its earliest inhabitants. A town widely recognized for its manufacturing industries, including glass houses, a rail car works, and windmill factory, have all called Trenton home. Trenton's manufacturing roots began in 1789, as Captain George Lowden commenced shipbuilding in the Narrows (the present site of Nova Scotia Power Trenton Generating Station).
Trenton gained its name in 1882, by the suggestion of the prominent citizen Harvey Graham, after he visited the American city, Trenton, New Jersey. The Town of Trenton was incorporated on March 11th of 1911.
In 1930 land was cleared for a small runway and the Pictou County Aero Club was formed. Trenton has the only airport on the Easter Mainland and is located at the top of Duke Street. It is fog free and navigationally in line with the Robert Stanfield International Airport, Halifax, N.S.(by business jet it is a minimal 11 to 12 minutes flight -118km).
Glass was an important industry in the early life of Trenton, there being three glass houses from 1881-1915, namely: The Nova Scotia Glass Company, Lamont Glass Company and Humphreys Glass Company. Trenton is the only town in Nova Scotia where glass was manufactured at that time. Visitors should check out the Trenton Heritage located on Forge Street for more information on Trenton's extensive history and displays.
The gem of our community is the Trenton Steeltown Park which sits on 565 acres of land. Trenton has two ball fields, the Scotia ball field and the Eban MacIsaac ball field, a skateboard park, tennis court, youth centre, and the Trenton Minor Sports Community Centre.
The Town of Trenton celebrated 100 year anniversary in March of 2011.
The Town of Trenton is within 10 minutes from local shopping and two major golf courses. Also, only 1.5 hours from Halifax, NS. Trenton is one of the five Towns located in the Municipality of Pictou County.
More Information
For more information, please contact the Town of Trenton Administration Office at (902) 752-5311 or see our Staff Directory.
For additional historic information, please visit Trenton Heritage.