Trenton Park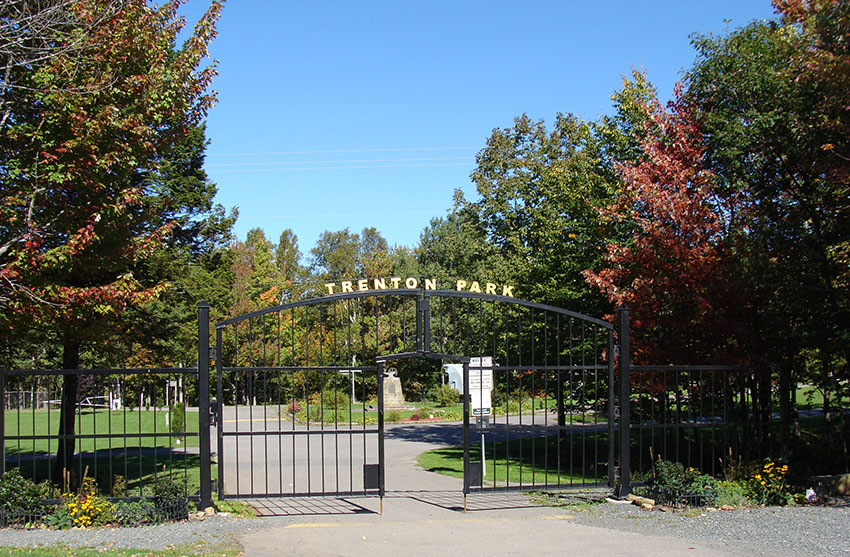 Please Note the Following Updates:
Due to the Trenton Park Revitalization work,the Trenton Park office building, washrooms, canteen, swimming pool, splashpad & playground are currently CLOSED. We look forward to our grand reopening in 2022!
Trenton Park Is Open Year-round!
Trenton Park is one of Nova Scotia's finest parks! Whether you want to get out of the car to stretch, take a break for lunch or perk up your day with recreational activities: Trenton Park can provide the experience you're looking for!
The Park offers 6km or walking/hiking trails winding their way through 565 acres of century-old coniferous trees. A 6.5km (4.4mi) mountain bike trail is also on site. Park visitors can enjoy a leisurely stroll (1.6km) along the prepared trail or stop to fish trout from the 3 man-made ponds. Visitors may catch a glimpse of the natural wildlife that calls Trenton Park home!
Trenton Park is a great location for family fun with a playground, a 3000 square foot family swimming pool and water splash pool for visitors to cool down in the summer months! A picnic area provides visitors a space to stop and enjoy food from the Trenton Park Canteen, open daily in the summer. Parking and washrooms are available at the main entrance. (2021 UPDATE: Closed due to revitalization construction at this time. See above for list of closures.)
Download the pdf Trenton Park Trails Map (3.32 MB) and pdf TCT Trails Map - Smelt Brook/Airport Route (3.48 MB)

Driving Directions
Coming From HWY 104
Trans-Canada Highway 104,
Exit 22 to Trans-Canada Highway 106,
Exit 1A to Trenton,
turn Right onto Mt. William Road.
Continue straight on Trenton Connector to Park Road.
Destination on Left.
Coming From Prince Edward Island (Caribou Ferry Terminal)
Trans-Canada Highway 106
Exit 3E on Pictou Roundabout to continue on 106 (New Glasgow/Trenton)
Take Exit 1A to Trenton
turn Left onto Mt. William Road
Continue straight on Trenton Connector to Park Road
Destination on Left.
Trenton Park Vehicle Access
Please be advised that the Trenton Park gates are closed to regular vehicle traffic in order to maintain a safe environment for walkers, runners, children, families, pets and natural wildlife. There is an accessible parking area located behind the Trenton Minor Sports Community Centre parking lot that can be used for those with mobility issues to gain access to the pond area.
Off Road Vehicles Prohibited
Due to recent damage on the new Trans Canada Trail & grass areas of Trenton Park, the public is reminded that the use of off road vehicles is prohibited at Trenton Park. This ban includes, but is not limited to: four wheelers & dirt bikes. This ban is to protect the Park's environmentally-sensitive hiking trails, as well as protect the safety of all trail users & wildlife. This ban is in place for drivers of ALL ages and a fine of $150.00 will be enforced.
Fishing at Trenton Park
The ponds were stocked in May 2022. For fishing at the Park we ask that you follow the Nova Scotia regulations which can be found in the Nova Scotia Anglers' Handbook and 2022 Summary of Regulations. Anyone over the age of 16 must have a valid fishing license.
Trenton Parks & Recreation
Mailing Address:
PO Box 328, Trenton, NS, B0K 1X0
Civic Address:
119 Park Road, Trenton
Trenton Park Office Closure
Please be aware that the Trenton Park office & washrooms (located at 119 Park Road) are currently CLOSED to the public. We apologize for any inconvenience this may cause. For any Parks & Recreation inquiries, please contact the Rink Office at (902) 752-2382 or email .