News
New Glasgow Regional Board of Police Commissioners Vacancy
Details

Published: Wednesday, 09 August 2023 12:46
New Glasgow Regional Board of Police Commissioners
Trenton Citizen Representative Opportunity 2023
As the New Glasgow Regional Police serves the residents of the Towns of New Glasgow and Trenton, the New Glasgow Regional Board of Police Commissioners is inviting citizens from the Town of Trenton to apply to serve on the Board as a citizen representative for the Town of Trenton. The Commission operates pursuant to provisions of the Nova Scotia Police Act. Its function is to provide advice to Council in relation to the enforcement of law, the maintenance of law and order and the prevention of crime within the Towns of New Glasgow and Trenton.

Please submit your application by submitting a letter of interest identifying the relevant experience and background that you would bring to the Board of Police Commissioners on or before Friday, September 1st, 2023 at 12 p.m. noon. Commissioners must pass the appropriate background check and be willing to take training provided by the Nova Scotia Department of Justice.
Contact:
New Glasgow Regional Police Commission
C/o: Town of New Glasgow
111 Provost Street
P. O. Box 7
New Glasgow, NS
B2H 5E1

Email:
pdf NGRP Commission - Trenton Citizen Representative 2023 (116 KB)
2023-24 Budget & Tax Rate
Details

Published: Wednesday, 28 June 2023 11:53
TOWN OF TRENTON NOTICE
Wednesday, June 28, 2023
2023-2024 Budget & Tax Rate
At a Special Town Council meeting on Tuesday, June 27, 2023, Council approved, accepted, and adopted the General Operating Budget of the Town of Trenton for the fiscal year from April 01, 2023, to March 31, 2024, in the amount of $5,249,279.00.
Due to the doubling of the Public Fire Protection Rate outlined in the Schedule of Rates set by the Nova Scotia Utility and Review Board effective April 1, 2023, the Town's Fire Protection rate for this fiscal year must increase by $0.0725 to be set at $0.145 per $100 of assessment for all assessed properties in Trenton – residential and commercial.
All other tax rates will remain unchanged from the previous fiscal as follows:
Residential & Resource property tax rate to stay at $2.04 per $100 of assessment
Commercial property tax rate to stay at $4.10 per $100 of assessment
Solid Waste (garbage collection) annual user fee rate of $146.00 per dwelling unit
Dependent on property assessments, this may cause property owners to see an increase in their final tax bills, set to be issued in September 2023.
We appreciate residents understanding of this necessary change. Council did not come to this decision lightly, and we will continue to put the future of our Town at the forefront of our decision making.
Respectfully,
Mayor Donald Hussher & Town Council
Related Documents:
Town Property Tax Exemption 2023-24
Details

Published: Wednesday, 14 June 2023 11:21
Town Property Tax Exemption 2023-24
The Application for Property Tax Exemption is available to any person assessed to a taxable property in the Town of Trenton; currently lives in the home; and whose total income from all sources for the 2022 year was less than $27,850 (total income means total household income excluding war veteran's allowance or pension paid pursuant to the Pension Act).

Applicants must provide proof of income & the application signature MUST be witnessed at Town Hall (120 Main Street).

The full policy can be found here:
Applications can be picked up at Town Hall during public office hours (Monday to Friday, 9:00am to 4:00pm). If you wish to print the application at home, it is available by clicking on this application link:
The maximum exemption granted is $265.00.

All applications must be completed and returned to Town Hall no later than August 31, 2023.
Trenton Water Utility Water Rate Increase
Details

Published: Thursday, 06 April 2023 09:03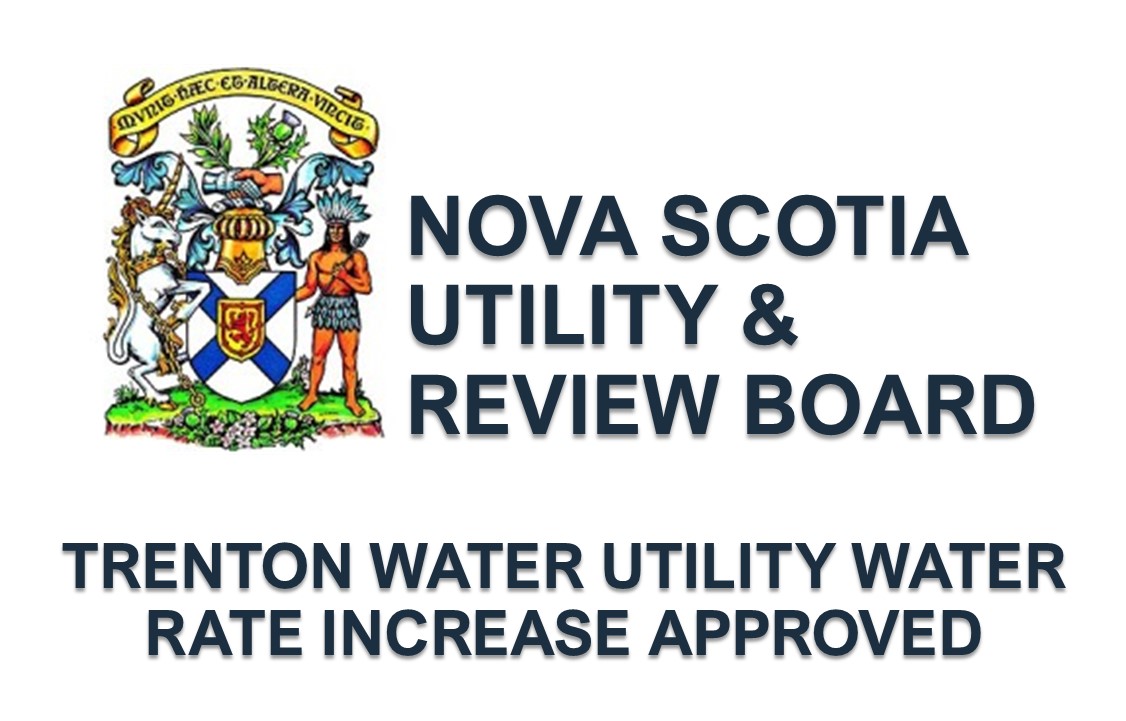 TOWN OF TRENTON PUBLIC NOTICE
Trenton Water Utility Water Rate Increases

The Town of Trenton, on behalf of its Water Utility, applied to the Nova Scotia Utility and Review Board for approval to amend its Schedule of Rates and Charges for Water and Water Services and its Schedule of Rules and Regulations. After due public notice, a hearing was held on December 14, 2022. The Schedule of Rates and Charges, including the public fire protection charge were approved by the Board, for Water and Water Services supplied on and after April 1, 2023, April 1, 2024, and April 1, 2025, respectively.


The average water bill in Nova Scotia is currently between $135 and $145 per quarter. In Trenton, the average water bill is currently $64 per quarter which equates to only $21 per month. The last water rate increase in Trenton was effective April 1, 2011, with no increase in 12 years.

Proposed increases for an average home (with four residents) are:
Effective April 1, 2023 – from $64.20 to $141.60 per quarter
(Average increase of $309.60/year, $77.40/quarter, $5.95/week, or 85 cents/day)


Effective April 1, 2024 – from $141.60 to $165.47 per quarter
(Average increase of $95.48/year, $23.87/quarter, $1.84/week, or 26 cents/day)


Effective April 1, 2025 – from $165.47 to $199.40 per quarter
(Average increase of $135.72/year, $33.93/quarter, $2.61/week, or 37 cents/day

A large part of the increase, specifically in years 2 and 3, is the result of replacing the aging reservoir and upgrading the water pressure booster station and treatment plant. These improvements are essential for the delivery of safe drinking water.

Approved increases are related to the changing provincial and federal environmental standards for drinking water, as well as the increases in costs for:
Power usage
Cost of chemicals and treatments supplies
Equipment
Transportation costs (fuel, insurance, repairs & maintenance)
Queen Elizabeth II's Platinum Jubilee Medal
Details

Published: Wednesday, 11 January 2023 14:30
Queen Elizabeth II's Platinum Jubilee Medal
Town of Trenton Recipient:
Shirley MacMillan
The Town of Trenton is proud to acknowledge and award a long-standing volunteer and member of our community.
Prior to her passing, Her Late Majesty, Queen Elizabeth II, approved the creation of a commemorative medal to mark the 70th anniversary of Her accession to the Throne as Queen of Canada. The Queen Elizabeth II's Platinum Jubilee Medal is being awarded to 5,000 residents of Nova Scotia who have made a significant contribution to Canada, Nova Scotia, their communities, or fellow citizens.
Shirley MacMillan has demonstrated exceptional qualities and outstanding service to our Province in the field of heritage. Shirley has been a pivotal member of our Trenton Heritage Society since our Town's 100th anniversary celebration. Shirley was the driving force behind the Trenton Heritage Museum where you will still see her volunteering her time several days a week. During this time, Shirley has compiled an extensive history of our Town through to present day. She researched for both the First Pouring of Steel in North American and the Glass Industry Historic Interpretive Panel now located on Main Street. She worked hard to acquire a Provincial Heritage Grant so there would be no cost to the Town for the glass panel. Shirley is also one of the dedicated and valued members of our Town's Communities in Bloom Committee.
The Town of Trenton is pleased to recognize and award Shirley for her commitment to her community!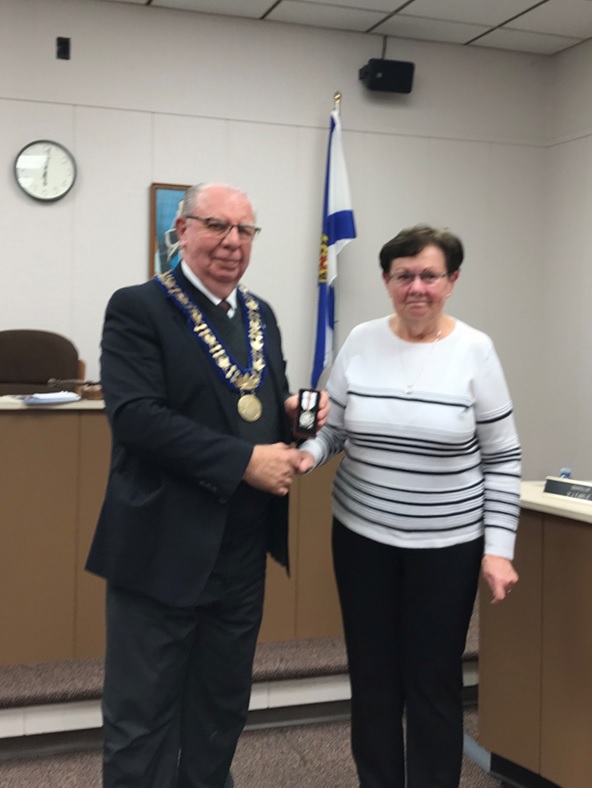 Photo Above: Mayor Hussher presented Shirley MacMillan with the Queen Elizabeth II's Platinum Jubilee Medal at the January Town Council meeting on January 10, 2023.
2023 Property Assessment Notices
Details

Published: Tuesday, 10 January 2023 08:59
2023 Property Assessment Notices have been mailed by Property Valuation Services Corporation (PVSC).
Did you know you can find more information about your 2023 property assessment online?
Log into My Property Report at www.pvsc.ca with the Assessment Account Number (AAN) and PIN on your 2023 Assessment Notice.
Still have questions?
Assessors are available Monday to Friday from 8:30am to 4:30pm at 1-800-380-7775 or
Hurricane Fiona Updates
Details

Published: Friday, 23 September 2022 10:47
HURRICANE FIONA SUPPORT
PROVINCE OF NOVA SCOTIA
Nova Scotians who have been severely impacted by hurricane Fiona will receive financial support from the Government of Nova Scotia. Visit this website for more details: https://novascotia.ca/hurricane-fiona-support/
RED CROSS
information for registering for direct assistance with Red Cross:
Phone: 1-800-863-6582 between 7:00 a.m. and 10:00 p.m. ADT
Online: www.redcross.ca/hurricanefiona
FIONA DEBRIS COLLECTION
PUBLIC WORKS NOTICE (10/18/2022)
The Town of Trenton Public Works Dept. began curbside debris collection three weeks ago with Glass Street. As of today (October 17), Public Works is now clearing debris on Duke Street. We expect to complete one full sweep of the Town by Friday, October 28, 2022.
October 28 will be the final day for collection as work required prior to the winter season is fast approaching. For this reason, we cannot complete a second sweep of the Town.
If you can transport your debris, there are two locations available for drop off:
Pictou County Solid Waste (PCSW) located at 220 Landfill Road, Mount William will continue to waive tipping fees for tree debris until at least Monday, October 31, 2022.
E&R Langille Contracting at their Langille Yard Road location (NOT Little Harbour Road) will also accept tree debris free of charge.
Regarding Leaf Pick Up:
PCSW Town Leaf Pickup is scheduled in Trenton for Friday, November 18, 2022.For more info, visit: www.pcwastemgmt.com
We knew Town clean-up would be a lengthy process, and our small crew has been working hard to complete debris collection. Thank you for your patience and cooperation as we all do our best to clean up the aftermath of Hurricane Fiona.
HURRICANE PREPAREDNESS & EMERGENCY CONTACTS
Hurricane Fiona is expected to hit Atlantic Canada on September 23rd and 24th bringing heavy rainfall and strong winds.
For the latest updates and to learn more on how to prepare, here are important links & contacts:
WEATHER ALERTS FOR PICTOU COUNTY
REMO PICTOU COUNTY (Regional Emergency Management Organization Pictou County)
REMO Facebook Page
REMO Website
Town of Trenton Public Works
Main Line: 902-752-6907
Trenton Fire Department
TFD Facebook Page
pdf TFD Hurricane Safety Checklist (309 KB)
New Glasgow Regional Police
Non-Emergency Line: 902-752-1941
NGRP Facebook Page
Emergency Preparedness Information & Alerts in Nova Scotia:
Nova Scotia Alerts Website
NS Emergency Management Office (EMO):
EMO Website
EMO Facebook
EMERGENCY NUMBERS:
911 - This is for emergencies only. If someone's health, safety or property is threatened and help is needed right away, call 9-1-1.

Emergencies include:
Fire
Serious Accident
Crime in Progress
Emergency Medical Situation
Poisoning.

811 - for health information and advice when you have a health concern or question.
511 - for information about provincial roads in Nova Scotia.
211 - for community and social services.
OTHER IMPORTANT NUMBERS:
Power Outage: 1-877-428-6004
Bell Aliant Outage: 611 or 1-800-663-2600
Eastlink Outage: 1-888-345-1111
Drinking Water Safety: 1-877-936-8476
Food Safety: 1-877-252-FOOD (3663)
Forest Fires: 1-800-565-2224
Poaching: 1-800-565-2224
Wildlife - Emergency Situations: 1-800-565-2224
Environmental Emergencies (such as oil spills and gas leaks): 1-800-565-1633
Emergency Management Office: 1-866-424-5620
Viola's Place Homeless Shelter
Viola's Place Website
Viola's Place Facebook Page

Notice(09/23/2022): "Viola's Place will remain open for shelter and safety while Hurricane Fiona passes over us. Thank you so much to our incredible volunteers and staff who pulled together to ensure that we have 24 hour support in place during this time. Be Safe everyone".
EMERGENCY PREPAREDNESS
Nova Scotians are encouraged to be ready to cope on their own for at least the first 72 hours of an emergency.
Being prepared means:
Knowing the risks
Develpoing a plan
Preparing a kit
As you get storm ready, ensure you have enough food and water for 72 hours as well as first aid supplies, gas in your car, batteries for flashlights and radios, and that prescriptions are filled. Basic Emergency Kit
POWER OUTAGES
Safety tips on what to do before, during, and after a power outage.
Nova Scotia Power
NSP Facebook Page
How to report an outage:
Visit: outagemap.nspower.ca
Call: 1-877-428-6004

Damaged meter mast? Please contact a certified electrician to make repairs before crews can safely restore your power.
FLOODING
Heavy rainfall is expected in parts of the province with Hurricane Fiona and may result in flooding. Is your home and property prepared?
Outstanding Trenton Residents
Details

Published: Monday, 29 November 2021 12:21
Do you know someone who always goes out of their way to make your day a little brighter?
How about a volunteer making adifference in our community?
Do you think someone should be acknowledged for their great accomplishments?
WE WANT TO HEAR ABOUT IT!
We always love recognizing our Trenton businesses and supporting local. Now we want to recognize the people from Trenton! In 2022, we hope to celebrate a Trenton resident each month in the TrentonTalk newsletter as a way to promote people in our community for good deeds, volunteer service, an employee or neighbor who went out of their way, etc. This will be an on-going selection process with Town Administration choosing a new outstanding resident each month to highlight.
The Nomination process is now closed.
OUTSTANDING TRENTON RESIDENTS!
THANK YOU TRENTON!
December 2022 marks the end of our Outstanding Trenton Resident celebrations. It was a great year recognizing so many outstanding people from our community for their good deeds, volunteer service, & generally making our Town a better place to live! We know there are many more outstanding people living in our community who were not mentioned this year. While nominations are now closed, we ask that you continue to tell your neighbours, family & friends how they are making your life and our Town better each and every day. Thank you Trenton!
Welcome Home to Pictou County Guide
Details

Published: Wednesday, 16 December 2020 14:45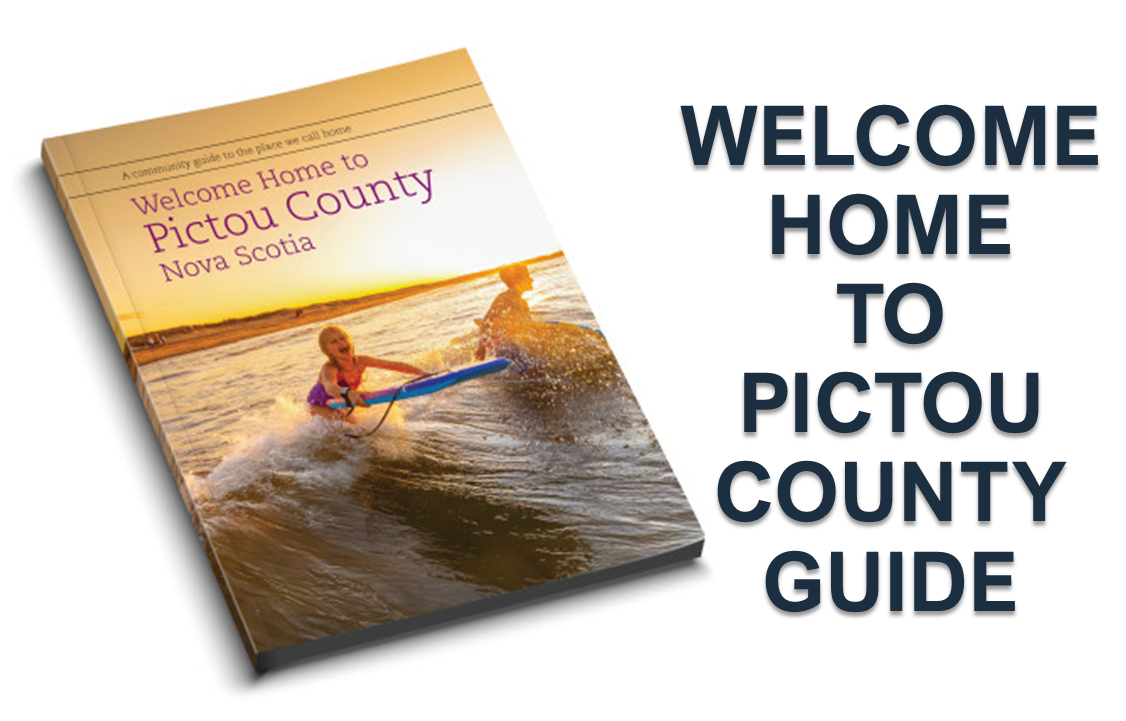 The "Welcome Home to Pictou County Guide: A community guide to the place we call home" was created through a partnership between Healthy Pictou County, the Destination Eastern and Northumberland Shores Tourism Association (DEANS), the Pictou County Regional Enterprise Network (REN), and the Pictou County Chamber of Commerce. It was also designed and printed locally by Advocate Printing. Funding was received from the Province of Nova Scotia for a large portion of this project, and we are excited to have it completed.
This guide is a wonderful piece for people considering our area, those new to the area, and even those who grew up in Pictou County. Take a look, you might just find something new!
Stop by the local Pictou-Antigonish Regional Library branches to view a hard copy of the guide they will have on reference or visit the Healthy Pictou County website for more information and to view the electronic version (also available below). Any questions or details on ordering your own print run, please email Nicole LeBlanc.
Welcome Home to Pictou County Guide: a community guide to the place we call home
Housing Nova Scotia
Details

Published: Sunday, 05 May 2019 09:28
Are you aware that Housing Nova Scotia offers programs throughout Nova Scotia which help keep low and modest income homeowners in their own homes, and in the communities they're helped to build, for as long as they can? Their goal is to help eligible families, seniors and persons with disabilities make their homes safer and more accessible.
Subcategories