News
2020 Modified Summer Day Camp
Details

Published: Monday, 22 June 2020 14:34
Registration
Registration for our modified summer day camps will take place at Trenton Park Office (119 Park Road):
Trenton Resident's Only - June 29, 2020 from 6:00pm to 8:00pm
Open Public Registration - June 30, 2020 from 6:00pm to 8:00pm
$100.00 per camp week for 5 full-day sessions.
Day camps are open to youth between the ages of 5 and 12 who are currently enrolled in school.
There is a limit of 18 youth per camp.
There will be social distancing measures put in place upon arrival during registration.
Camp Structure
Modified Summer Day Camps will run for six (6) weeks starting July 13 and ending August 21, 2020.
Camps will run Monday to Friday from 9:00am to 3:00pm based out of the Trenton Minor Sports Community Centre (Trenton Rink, 75 Park Road, Trenton).
Staff to child ratio is 9:1.
Children will stay in the same small groups with the camp leader for the duration of each session as they move through various activity stations.
Siblings will be assigned to the same small group when reasonable. Siblings are not required to physically distance from each other, even within the same small group.
Planned Activities
Camp activities may include activities such as arts and crafts, sports, fitness, music, dance, outdoor activities, and nature.
Many camp activities will be provided in an outdoor setting. Please come to camp prepared for outdoor activities with appropriate dress, footwear, hat, water bottle, and previously applied sunscreen.
Outdoor sun safety policies will be followed. Water stations for filling personal water bottles and additional sunscreen will be provided during the camp.
Camp activities will vary each week.
Physical Distancing
All camps will operate with physical distancing rules in place, with group activities spaced throughout available outdoor greenspace. Within each small group, camp attendees will maintain a two-meter physical distance from each other.
The use of non-medical masks (cloth or home-made masks) within the day camp setting is not required where physical distancing is maintained. However, some children may choose to bring and wear a nonmedical mask while at camp.
Group sizes will not exceed the maximum gathering limit of 10, including both campers and staff.
Drop off & Pick up
Trenton Rink Parking Lot will be sectioned off and labeled to adhere to social distancing guidelines.
All parents will enter from the same entrance and proceed towards the morning check in area.
Once parents are at the front of the line, they will park their vehicle and the Supervisor will approach with a questionnaire that the parent and child will answer each morning.
Once all the questions are answered and the Supervisor feels the child is safe to participate in the day's activity the parent will then drive to 1 of 2 drop off locations (depending what group their child is in).
Illness
If a child develops symptoms while attending camp, the child will be isolated from other children andthe parent/guardian will be notified to collect the child immediately.
If a child requires close contact and care, staff will continue to care for the child until the parent/guardian is able to pick them up.
Personal Hygiene & Protective Precautions
All camp spaces will have designated entrance and exit plans, and washroom use will be monitored to limit capacity within these spaces.
Frequent hand washing or hand sanitizing by campers and staff will be taught, reinforced and monitored.
Campers will be reminded to cover coughs and sneeze with a tissue. If a tissue is not available, cough or sneeze into elbows, not hands.
Campers will be encouraged to avoid touching their mouth, nose and eyes during the summer day camp.
Equipment and/or supplies will be managed and cleaned with appropriate disinfecting cleaner before and after use, and between use by different cohorts.
TRENTON PARKS & RECREATION
Tel: 902-752-1019
Low Income Tax Relief Policy
Details

Published: Wednesday, 17 June 2020 11:48
Applications for a Low Income Tax Exemption for the 2020-2021 fiscal year are now available.
This exemption is available to any person assessed to a taxable property in the Town of Trenton; currently lives in the home; and whose total income from all sources for the 2019 year was less than $25,000 (total income means total household income excluding war veteran's allowance or pension paid pursuant to the Pension Act).
Applicants must provide proof of income & the application signature MUST be witnessed at Town Hall (120 Main Street).
The full policy can be found here:
pdf FIN-20200616 - LOW INCOME TAX RELIEF POLICY (139 KB)
Applications can be picked up at Town Hall. If you wish to print the application at home, it is available by clicking on the policy link above and can be found on the 3rd page of the policy.
The maximum exemption that will be granted is $250.00. All applications must be completed and returned no later than July 31, 2020.
Municipal Property Tax Financing Program
Details

Published: Thursday, 04 June 2020 10:41
Municipal Property Tax Financing Program
The Town of Trenton recognizes that many citizens and businesses have been significantly impacted by the COVID-19 pandemic. The municipality is, therefore, offering a one-time property tax financing program for owners of residential and commercial properties negatively affected by the COVID-19 global pandemic.
This is a deferment program, not tax forgiveness, for financing of 2020/21 tax bills only. The 2021/22 tax bills will be issued with set deadlines for both (interim/final) taxes. It is recommended that property owners who can do so, pay their tax bills by June 30, 2020 to avoid interest charges.
For taxes for any property to qualify for the Program, the taxes for the property must not be in arrears at the time of application.
You qualify if you are the owner of a:
Residential property that is your primary residence and you have experienced financial hardship through a significant reduction in income due to the State of Emergency.
Taxable commercial properties (shopping, office, industrial, farm) who has experienced financial hardship through at least 30% loss of revenue related to the State of Emergency.
Property that is used for tourist accommodations (e.g., hotels, motels, bed and breakfasts - excluding AirBNBs) and you are a tourism operator registered under the Tourist Accommodations Registration Act.
Further details & eligibility criteria are detailed in the Property Tax Financing Program Policy:
pdf GOV-20200616 - PROPERTY TAX FINANCING PROGRAM POLICY (401 KB)
How does the program work?
If your application is approved, your property tax payments will be spread out over 30 months. Your first six (6) payments will be $25 per month. The remainder of your tax bill will be divided by 24 to get the monthly amount you will be expected to pay. A small amount of interest (1.35%) will be applied to your monthly payments.
Example: Resident X owns her own home but lost her job due to COVID-19. She applies for the Municipal Property Tax Financing Program and her application is approved. Resident X's tax bill is $2,000. She pays $25 for the first six months. After six months her balance of 2,000 - $150=$1,850 is divided into 24 equal payments of $78.17 plus interest. Resident X must pay this amount every month for 24 months. At the end of the program Resident X has only had to pay $25.97 in interest.
Please Note: If you default on any of your monthly payments you will be taken out of the program and will be required to pay the full amount owing. Interest rates will increase to 1.25% per month if you default on your monthly payments.
How do I apply?
Residents who believe they are eligible can apply through an on-line form at https://nspropertytaxprogram.ca. The information is being collected by the Association of Municipal Administrators (AMANS) and the Federation of Nova Scotia Municipalities (NSFM) on behalf of the municipality. This information will be sent to the municipal office for review and approval. Please note:
The application must be completed by the owner(s) of the property.
The online form must be fully completed for your application to be considered. Please review the application examples provided below prior to filling out your official application online as this will allow you to learn what will be required to submit with your application:
You will be asked for your Municipal Account Number which can be found on interim tax bill from the Town of Trenton. If you do not have access to your interim tax bill, please contact the Town Office at 902-752-5311 during regular business hours (Monday to Friday, 8:30am to 4:30pm).
The deadline to submit your application is July 15th, 2020.
A confirmation that your application has been received will be sent via e-mail.
Dependingn on the volume of applications, the Town Administration will strive to notify applicants within a few business days of their application submission.
Town of Trenton Public Notice: Re-opening of Town Hall
Details

Published: Wednesday, 27 May 2020 09:46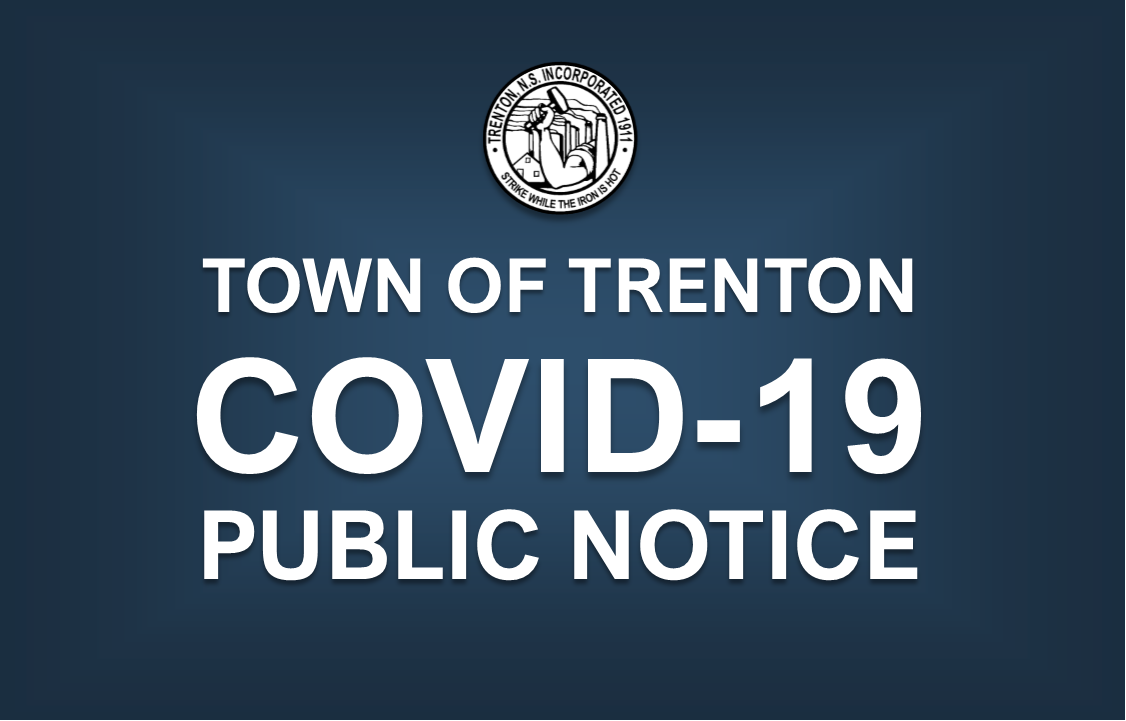 Effective: Monday, June 01, 2020
The Town of Trenton Town Hall will be re-opening to the public effective Monday, June 01, 2020 with adjustments to adhere to proper social distancing protocols and ensure the safety of Town staff and residents.
PUBLIC OFFICE HOURS
Monday to Friday - 9:00am to Noon
While Town staff are currently on site working regular hours (Monday to Friday - 8:30am to 4:30pm), the office will be open to the public between 9:00am to Noon for payment purposes ONLY. For any questions or concerns, please contact the Town Hall by calling 902-752-5311 or review the Staff Directory.
OFFICE PROTOCOLS
The following protocols will be enforced for anyone entering Town Hall. No exceptions permitted.
Only TWO (2) residents will be allowed in Town Hall at a time. This includes members from the same household. Whenever possible, please select ONE (1) family member to enter the Town Hall.
The doors will be unlocked during the public office hours. During this time you may use the automatic door opener to enter the building to reduce touching of the door handles.
Once inside the office, you may approach the front counter. If there is already a resident at the counter, please adhere to proper social distancing by waiting at the designated spot for your turn. Staff will disinfect all surfaces after each resident.
For your own safety & that of Town Staff, we recommend both gloves and a face mask to be worn when entering Town Hall.
If your business will require a signature, we recommend that you bring your own pen to use. We will have pens readily available.
If you need to use the debit/credit machine, use the tap option whenever possible.
An automatic hand sanitizer dispenser is located to the left of the front counter inside Town Hall. We recommend you use this, as necessary.
The public washroom is currently unavailable.
Access to the Planning & Development Department, located upstairs at Town Hall, will be by appointment ONLY. No walk-ins will be permitted. Please call ahead to set up an appointment.
OTHER PAYMENT OPTIONS
There are still payment options available without the need to enter Town Hall. We ask that if any of these options are possible for you, please consider not coming to Town Hall.
Online Banking
Login to your online banking account
Choose to Add Payee / Add Bill / Add Bill Payment (option provided will depend on your banking institution)
Select Account Type: Town of Trenton Water or Town of Trenton Taxes (if you cannot find the account with these specific names, try searching the word Trenton & select the correct account from the populated list)
For water payments, use your Utilicode Number found on your water bill. Your account number is 8-digit numbers only (12345678). You do not need to include the decimal (.00) at the end of Utilicode.
For tax payments, use your Municipal Account Number found on your tax bill. Your account number is 8-digit numbers only (12345678).
You will also notice a customer code on your bills which has letters & numbers (NAMEA001) - do not use this customer code for online banking.
Bank Payments
Your water & tax bills can be paid at your banking institution. Just take your bill to your bank (or have your account number available and the amount you wish to pay), and they will transfer the payment from your account to the Town.
Cheques or Money Orders
Payments should be made out to the "Town of Trenton" and mailed to:

Town of Trenton
P.O. Box 328
Trenton, NS B0K 1X0

State your Utilicode for water or Municipal Account Number for taxes on the front of your cheque or include the bill stub (bottom portion of your bill). If you require a receipt, ensure you have checked off "Request Receipt" on the bill stub.
Credit Card
The Town now accepts Visa and Mastercard and can do so over the phone. You must have your card number, expiration date and security code (located on the back of your card) available. For the safety and security of residents' personal information, your credit card information will only be taken from staff in the Town Hall and will be destroyed after the approved payment has been taken. Your card information is not kept on file. If you require a receipt, one can be sent to you following the payment.
If you require assistance in finding your account number or balance, please contact Town Hall at 902-752-5311 during regular business hours.
We will continue to share updates and information regarding COVID-19 on the Town website and Facebook page. We are asking all residents to follow guidelines set by the Government of Nova Scotia and NS Dept. of Health & Wellness by following proper social distancing, be cautious of what information you share and be weary of unfounded claims on social media. The most accurate and up-to-date information regarding Covid-19 can be found online from the Province of Nova Scotia at https://novascotia.ca/coronavirus. We appreciate your continued participation and understanding.
Town Administration
Town of Trenton Cancellations Notice (Summer 2020)
Details

Published: Tuesday, 28 April 2020 16:11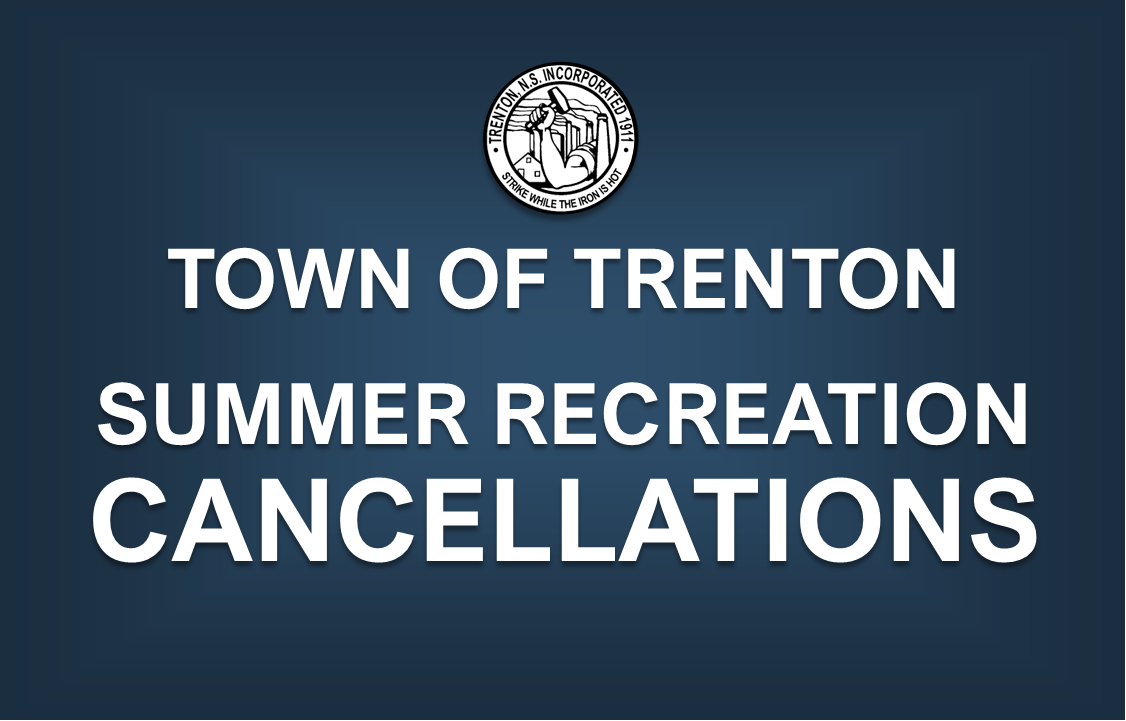 Re: Cancellation of Recreational Activities – Summer of 2020.
To whom it may concern,
Under the directive of the Town of Trenton Mayor and Council, we must publicly announce that due to the ongoing COVID-19 pandemic the following programs and events scheduled annually in Trenton are officially cancelled for the summer of 2020.
They include:
The Trenton Park outdoor pool will remain closed for the 2020 season.
Trenton Parks & Recreation Summer Programs, including the Children's Day Camp, will not be running for the 2020 year.
The Town's annual festival (Trenton FunFest) has been cancelled for 2020.
All Town recreational outdoor facilities, parks, trails, playgrounds and sports fields will remain closed until further notice.
While the Town regrets this loss to our recreational needs, we know we must put the safety of our residents at the forefront. These cancellations align with many other Municipal units and annual festival committees' decisions during the current Provincial State of Emergency.
During this time of uncertainty, it is important that we all continue to follow proper physical distancing and isolation protocols as set by the Provincial Department of Health and Wellness. While no gatherings or drop in programming will be offered, the Director of Parks and Recreation will turn his efforts into developing recreation and social programs that align with these requirements while providing some level of socializing and physical activity amongst Trenton residents.
Understandably, such closures and cancellations will impact summer employment opportunities available from the Town of Trenton. Please know the Town is committed to hiring summer students to assist in property care and maintenance, and whatever other capacity we can offer while still having the ability to keep everybody safe.
Respectfully submitted,
Wayne Teasdale
Chief Administrative Officer
pdf Public Notice: Cancellation of Trenton Recreational Activities - Summer 2020 (100 KB)
REMO Pictou County Notices
Details

Published: Monday, 30 March 2020 13:59
REMO - Regional Emergency Management Organization Pictou County
REMO Pictou County is made up of representatives from six local municipal units who are working collaboratively under a provincial approved emergency management plan to deliver essential services to all Pictou County residents during emergency situations.
Please visit the REMO Pictou County Facebook Page for current updates & notices.
PUBLIC NOTICES
pdf Government of Canada connects Canadians with mental wellness supports during COVID-19 (April 16, 2020) (54 KB)
image NS Health Authority - Mental Health and Addictions: Program Update (April 15, 2020) (328 KB)
pdf Shop Responsibly: Province urges everyone to use common sense when shopping for groceries or essential items (April 07, 2020) (279 KB)
pdf Interim primary care access clinics established in Truro and New Glasgow for people without a family practice (April 03, 2020) (183 KB)
pdf Hefty fines will be issued for people who don't heed social distancing rules (March 31, 2020) (175 KB)
pdf Nova Scotia Health Authority - Coping with COVID-19 (181 KB)
pdf Precautionary measures for taxi & community transportation operations (March 31, 2020) (122 KB)
pdf Be Aware of Scams related to COVID-19 Crisis (March 31, 2020) (106 KB)
pdf Minister of Education and Early Childhood Development's Message to Families (March 30, 2020) (58 KB)
pdf Trails provide a place to exercise, not socialize (March 30, 2020) (148 KB)
Please note that all trails in the Town of Trenton are currently closed including those at Trenton Park & the Smelt Brook Trail.
pdf Waste, recycling and compost collection services continue to be offered in Pictou County (March 29, 2020) (127 KB)
pdf Dr. Strang Letter to Nova Scotians (March 26, 2020) (154 KB)
pdf FAQs to support the Public Health Protection Act Order (March 26, 2020) (159 KB)
pdf Community Resources in Pictou County (137 KB) ,
REMO Newsletters
Resources for Awareness
Government of Canada Resources
Employers and Community Groups Fact Sheet
Individuals and Families Fact Sheet
Prevent the Spread of COVID-19
Information on How to Self Isolate
Information on Social Distancing
Fire Ban & Restrictions (Updated)
Details

Published: Thursday, 26 March 2020 21:35
Nova Scotia Lands & Forestry Notice
Updated: May 15, 2020
FIRE BAN & RESTRICTIONS
A ban on open fires in the woods or within 305 metres (1,000 feet) of the woods is in effect until 1 June 2020 at 11:59 pm. This means No Domestic Brush Burning is permitted. Use of fire pits which are no wider than 0.5 m in diameter, and backyard appliances (like chimineas) are permitted for households but must follow the posted burning restrictions updated at 2:00pm daily. Municipal bylaws must also be followed.
During the wildfire risk season (March 15 to October 15) all campfires must adhere to daily Nova Scotia burning restrictions.
Check before you burn - visit the Nova Scotia website for daily burning restrictions.
OPEN FIRE BAN IN EFFECT
March 25, 2020
For full details regarding the burn ban, please review the following notices from Nova Scotia Lands & Forestry:
Building Inspection Protocol
Details

Published: Monday, 23 March 2020 12:29
Building Inspection Protocol
Regarding current concerns during COVID-19 social distancing and sanitization recommendations, this protocol for performing building inspections is effective immediately.
- All inspections will be booked a minimum of 2 days out to ensure maximum grouping of inspections and to control and limit defined inspection days.
- All interaction regarding inspections, documentation, booking, review, etc., where and when possible, will be conducted electronically, digitally and/or by phone. All such correspondence to be strictly through devices provided or preapproved by the Town.
- All inspection sites will be required to be vacated at the time of inspection. If required and only by prearrangement with the inspecting official, a maximum of one (1) other individual may be allowed on site at the time of the inspection. Social distancing procedures as recommended by the Federal and Provincial Health Authority's shall be observed. On site refers to the physical building being inspected and not necessarily the property where social distancing can be practiced safely.
- Any inspection site that is "occupied" with or without a permit, will have inspections deferred indefinitely. Exceptions in extenuating circumstances may be permitted only by special arrangement through the official.
- The following questions will be asked when arranging for an inspection:
1) Has anyone who has been on site traveled out of the province in the last 14 days?
2) Is there anyone who has been on the site currently in self or imposed isolation?
3) Will the site be empty and if not, who will be there (maximum 1 person).
- An affirmative response to any of the above questions is an automatic indefinite deferral of the inspection. All deferred inspections are to be logged and will take precedent when this protocol is no longer in place.
Thank you for your co-operation and understanding.
Emily Lutton
Building Official & Fire Inspector
Trenton Park Redevelopment Initiative Update
Details

Published: Friday, 21 February 2020 10:07
TRENTON PARK REDEVELOPMENT WORK REACHES EARLY MILESTONE
Trenton, NS – The redevelopment of Trenton Park has reached a major milestone, in awarding the design work phase to Glenn Group Landscape Architects and Park Planners.
The successful contract notification took place in February 14, after a public tendering process, through the Town of Trenton in the amount of $216,140.00 plus applicable taxes.
"We're thrilled to see this incredible project for the community officially underway with the beginning of formal design plans. We know that people are really excited to see the work start in the park, and the design phase is a big milestone for this redevelopment project," said Mayor Shannon MacInnis. "We will be working closely with our project manager and council as this redevelopment project comes to fruition and look forward to what this will add and bring to our community."
The project has seen support from all levels of government, with $2.2 million from the federal government, $1.2 million from the province of Nova Scotia, and $254,518 from the Town of Trenton, Town of New Glasgow, Town of Pictou, the County of Pictou, the Town of Stellarton and community.
"We are thrilled to have this company selected and start the formal plans for the project," said John Charlton, Project Manager overseeing the redevelopment project. "Park users may start to see activity on-site as early as this spring, and we're working towards final completion of the project in summer of 2021."
Once complete this universally accessible, high-quality parkland will serve as a signature destination within our community offering residents a wealth of outdoor recreation activities and opportunities. Redevelopment plans include many new additions to the park including a large and exciting playground, seating, signage, shade shelters, refurbished pool, picnic areas, splash pad, fenced dog park, washrooms, trail remediation, and additional, upgraded parking facilities. Once restored and modernized, Trenton Park will provide a safer, accessible, and more welcoming environment to ensure the widest use possible and participation by people of all ages.
The fundraising and redevelopment project was initiated by the Hemlock Group, a volunteer group of engaged citizens looking to create an outdoor recreation space for all of Pictou County and beyond.
For more information on the plans, click here to visit the Hemlock Group website.
Housing Nova Scotia
Details

Published: Sunday, 05 May 2019 09:28
Are you aware that Housing Nova Scotia offers programs throughout Nova Scotia which help keep low and modest income homeowners in their own homes, and in the communities they're helped to build, for as long as they can? Their goal is to help eligible families, seniors and persons with disabilities make their homes safer and more accessible.